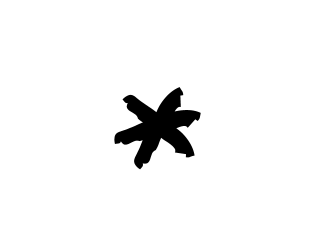 asterisk
there's a simple grace in being. like, we forget that while we're wrapped up in all our fussing about, but just existing, even just taking a moment and settling into our space, it's nice. and that's all it has to be: nice. and every thing, every book and chair and skyscraper and every errant wave and mote of soil and curling breeze, its beautiful and breathtaking. there's something to be learned, isn't there? or maybe a bottle of ketchup is just a bottle of ketchup, and it needs to go back in the fridge because its been a couple days.
asterisk asks a big question: what's life mean to an old rocking chair? or the frame of a door? or the floor of a brand-new apartment building? what if all the things we surround ourselves with, made of wood and stone and glass and plastic, were alive? asterisk is about asking these questions, and discovering what those answers mean to you.
asterisk is a GM-less, diceless part-roleplaying game, part-character creation engine meant for 1-4 players. it was written for the 2020 #NoNoNoJam, hosted by Kazumi Chin & Games from the Wild Wood. the first bites edition of the game comes with the first three phases of the game. it is a meditation on existence, and also about roleplaying newly sentient pieces of furniture.

Purchase
In order to download this game you must purchase it at or above the minimum price of $1 USD. You will get access to the following files:
asterisk first bites.pdf
106 kB
asterisk first bites - plaintext.rtf
20 kB
Community Copies
Support this game at or above a special price point to receive something exclusive.
claim a community copy
If you are interested in playing but don't have the budget for it, claim a community copy for free, or shoot me a DM here or on Twitter! Every copy of the game purchased at or above the set price also donates a community copy, as well as directly helps out an artist.